Product Description
Technology Theory:
IPL intensive pulse light can have a role in skin-ray thermal role and photochemical role. Pathological changes organizations eject epidermis after absorb energy, with its own metabolism decompounding and falling off. At the same time, it can stimulate collagen fiber to regenerate and make reorganization of strong fiber and hemoglobin absorb energy rapidly,capillary wall being added thickness and contracted. It can improve the skin of face, remove speckle, wrinkle and shrink pores.
Applied Range:
Hair removal
pigment removal
Wrinkles removal
Acne removal
Feature:
Super capacity of water cooling system.(-4 degree)

High quality crystal on the operation head.

1000W power makes the machine super stability and effectiveness.

1 operation head for multiple functions

CE certificate.

7 inch colorful touch screen 

English/Swedish/multil language operation interface.
Effect Pictures: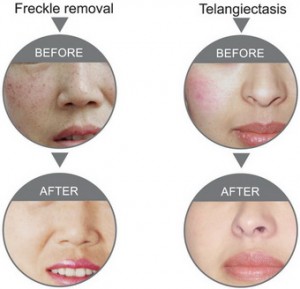 Accessories Pictures:

Specifications:
Net Weight

38 KG

Power

1000W

Pulse number

2/3/5

Light spot area

8*40mm

First pulse width

2-15ms

First Intermission

5-60ms

Arrant Pulse Width

2-15ms

Repeat Frequency

1/2/3HZ

Crystal Temperature

About -4℃

Energy density

10-50J/cm2

Dimensions

54*58*50 cm

Light source

Intensive pulse light

Spectrum range

530-1200nm (skin rejuvenation) 640-1200nm (remove hair)

Cool system

closed water cooling + wind cooling +semi-conductor cooling system cold