Product Description
Theory:
E-light machine combines three advanced technologies: Bipolar Radio Frequency + IPL +Skin Contact Cooling.
When the three are united in one treatment, wonderful treatment experience and result can be expected. The energy of Radio Frequency can reach the middle and deep layer of the skin and heat up tissue, thus, lower energy is applied during the IPL treatment. Uncomfortable feeling during the IPL treatment will be decreased significantly and better result can be expected. In addition, cooling system involved in E-light can also ease the uncomfortable feeling.
The absorbing of the energy of radio frequency is not concerned with melanin. So, the E-Light treatment can get good result on the soft or thin hair so as to decrease the risk caused by traditional IPL treatment.

Feature:
–RF energy can be applied to any type of skin;
–Used in deep color skin or light color hair;
–Combining with IPL, RF decreases burn risk and uncomfortable
feeling significantly;No side effect;
–Special designed ISL device can monitor the skin temperature to
ensure a safe treatment;
–Easy to operate: The hand piece tip is smart and can be applied on
the skin directly.
–Color Touch LCD screen with USB updating technology
— Xenon lamp from USA,  enable more than 100,000 shots !
Working Area:
1. skin tightening, skin lifting
2. skin rejuvenation, fine wrinkles, pigments, freckles, vascular lesions, skin whitening
3. hair removal, body shaping
4. acne removal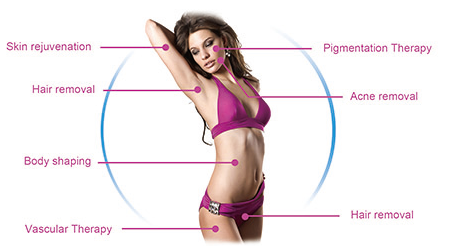 Specifications:
Net Weight

30KG

Power

2000W, 220V/50Hz

Pulse number

1-20

Light spot area

12*40mm

Pulse width

2-20ms

Pulse delay

2-60ms

RF frequency

1-10 HZ

RF level

1-8

RF energy

1-100 J/cm2

Crystal Temperature

About -4℃

Energy density

10-50J/cm2

Dimensions

34*36*53cm3

Light source

Intensive pulse light

Spectrum range

530-1200nm (skin rejuvenation) 640-1200nm (remove hair)

Cool system

closed water cooling + wind cooling +semi-conductor cooling system cold
Effect Pictures: