Product Description
Theory:
The HIFU uses targeted ultrasound technology to direct sound waves through the skin to the deeper layers and structures beneath the skin.Similar to the use of ultrasound to visually see a fetus on a screen during a pre-natal appointment, the layers of skin and tissue are able to be seen and specifically treated during therapy. Ultrasound waves generate heat, which is directed at the deepest layers of the skin.As the layers warm, the patient's own collagen is stimulated, which in turn naturally activates the production of new collagen.This new collagen provides volume to lift and tighten the skin.Procedures typically take 30-60 minutes.
 HIFU (high intensity focused ultrasound)
High-intensity focused ultrasound is a new treatment to tighten the skin in depth. It is almost the deepest face lift as you can get without a surgical procedure.
SMAS (Superficial Muscular Aponeurotic System)
The area between just bottom of the dermis and the top of the muscle layer.
This muscle layer can cause wrinkle and skin loosening
History of skin lifting: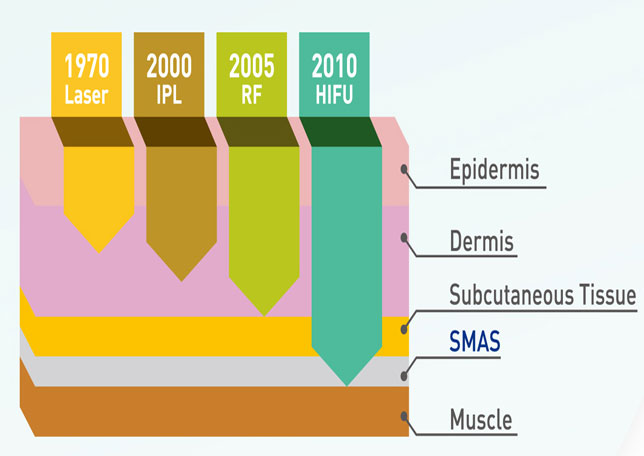 System Features:
Non-invasive procedure
Single treatment
No downtime
Natural result
Application:
Wrinkle removal
Skin tightening
Skin regeneration
Body firming
Operation Area:
Specifications:
| | |
| --- | --- |
| Net Weight | 7 KG |
| Power | 160W |
| Dimensions | 30cm*38cm*18cm |
| LCD screen | 15 inch color touch screen |
Handles:
Effect Pic:

Brochure:
Brochure download: